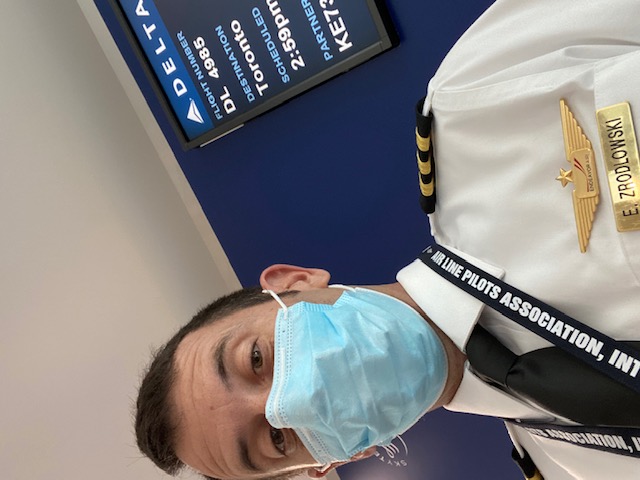 "I highly recommend Midwest Dizziness and balance institute. Every one of the staff were very helpful and friendly and went out of their way to make sure that everything I needed was taken care of.
I consulted with a few doctors and clinics, none of which were able to diagnose my set of symptoms. This was very frustrating for me. After the extensive testing at MDBI, my particular issue was identified and an effective, progressive treatment plan was implemented. Dr Lupo and the staff worked with my schedule and we were able to aggressively begin treatment and recovery. The selection of tools and equipment unique to MBDI sets them apart in a class of their own. Thanks to their tailored approach I was making progress and on my way back to normal in a matter of weeks."
Evan Z
"I came to them at the beginning of the year 2021 after having covid, my vertigo became debilitating along with my vestibular migraines. It was a godsend finding this place. The staff and doctors are amazing. They truly want to help you and listen and are caring while in sessions. I have made so much progress here. I have otolith dysfunction and I can say my balance is back and I have many more better days."

"Midwest Dizziness and Balance is the most well run medical facility I have ever been to. They performed a comprehensive battery of tests and identified the exact cause of the vertigo that had plagued me for years. In one visit they performed a maneuver that gave me my balance back. I can't thank them enough."

"Last summer I started experiencing dizziness and having issues focusing. It bothered me the most when I would be in the grocery store or driving. I finally decided to make an appointment at Midwest Dizziness and Balance Institute. I didn't have high expectations that they would be able to diagnose my issues or figure out what was wrong. I was put through extensive testing all while constantly being reassured by the staff the entire time. I left that day with a treatment plan to get started on. Within a few weeks I was finally feeling normal again! I was starting to think that was never going to happen. I am so grateful to all the staff at Midwest Dizziness and Balance Institute! They were amazing to work with! If you are struggling pay them a visit!"

"I have a long history of vertigo related to BPPV and usually could get relief from my ENT. This July I was incapacitated by the most severe episode I had experienced. After unsuccessful relief after three visits to the ENT I was referred to the Dizziness and Balance Clinic. Jaime's kindness, understanding, and compassion put me at ease. She thoroughly explained every step of the testing procedure before each one was performed. With her expert interpretation of the test results she knew exactly what was necessary for relief. The first treatment went better than expected, although not quite completed. I was sent home with thorough instructions of exercises to do until our next appointment. When that day came I was a new person. Jaime saw it immediately. Jaime explained the physiology of the crystals in the inner ear as related to BPPV in less than 60 seconds. I have read dozens of articles and studies but none made it as clear as she did!
Her knowledge, kindness, compassion, and genuine concern for me as an individual, have cemented me to returning to her for any needs in the future. No more going from one place only to be sent to another, etc. I will continue with the continuity of care Jaime Carmody offers."
"I have had multiple episodes of vertigo problems. Jaime's professionalism and calm demeanor helped relieve my distress. In each episode, she accommodated my needs and fit me into her schedule. Knowing I have her to call should my vertigo return is immensely reassuring."

"I have had severe dizzy spells for 5 weeks. After a referral from my doctor. I had an evaluation from the Institute. After the evaluation of about 3 hours of testing they determined what my problem was. They performed a treatment and I could not believe how after 1 treatment my dizziness went away. If anyone has a problem with balance or dizziness I strongly recommend calling the Midwest Dizziness and Balance Institute."

"I would absolutely recommend this place to anyone who feels dizzy, unsteady, or off balance. I first became dizzy in August 2018. I saw several nurses, audiologists, and a physical therapist who all did the Epley maneuver on me along with countless other tests. No one could give me a definitive answer about why I was still feeling dizzy. I could not function. Everyday activities were difficult and I lived on the couch where I gained ten pounds. I could not drive or go grocery shopping or even do laundry. I cried all the time feeling like no one could really understand what I was going through. Some days I felt depressed and hopeless thinking I would never get better. Two months later, I was referred to Jaime Carmody at Midwest Dizziness and Balance Institute. She ran tests on me and showed me my data which proved why I was feeling dizzy. I was diagnosed with otolith dysfunction. Finally someone could give me some answers and she believed me when I told her how my dizziness was affecting my life. She gave me hope. Three months after watching videos to re-train my brain, I can function again. My family said I'm back to my old self. I cannot put into words how grateful I am for Jaime and everything she did for me. She encouraged me and gave me hope. She also gave me answers and most importantly she believed me when I told her about my dizziness symptoms. She gave me my life back. I truly do not know where I would be without Jaime and all her hard work. Everyone there is so kind and understanding. They actually care about you getting better and getting back to normal. Jaime and her staff were wonderful and the facility is beautiful. You do need to do the home exercises they give you. Just going to the office twice a week for treatments will not get you feeling better. If you do the home exercises and really follow their instructions, you will feel better and get your life back.

Definitely recommend this place!"
"I highly recommend this center for anyone that has a vestibular or balance issue. Awesome in depth testing. Many thanks to all the staff of Midwest Dizziness and Balance Institute for their amazing job providing testing and AVT over the past few months that has allowed me to function normally again after a major vestibular imbalance. I give special thanks to Jaime Carmody for making this Center and team possible along with Allie Baeten, whom provided most of my AVT therapy and motivation and kindness during the process; Nicole for a great job with my initial testing, and Shannon for her expertise and friendliness for coordinating all my appointments. Truly a great Center and an awesome staff! My wife and I are forever grateful for their special abilities."